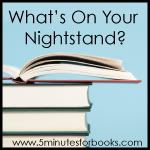 Well, another month is almost done, and it's time to look back at what I've read over the last few weeks and see what is coming up next. Between my love of books and my love of putting things in order, this is probably my favorite post of the month.
I posted three reviews at 5MFB/5MFM recently, all three of which were Christian fiction. First was Be Still My Soul by newcomer Joanne Bischof, which is a historical romance set in Appalachia, followed by You Don't Know Me by Susan May Warren, which is another installment in her Deep Haven series. The final one was Life with Lily, a charming middle grade novel about a young girl growing up Amish, written by Suzanne Woods Fisher and Mary Ann Kinsinger. Suzanne was even gracious enough to write an On Reading column for us about what the Amish read in their homes.
I read quite a few other books this month, five of which I posted reviews for (click on the titles to check out my reviews). The first is nonfiction, the second is young adult/vampire, and the rest are Christian fiction:
The other books I finished this month included (click on the titles to see them on Goodreads):
And, finally, I'm currently reading:
So, that's it for me this month. What's on your nightstand right now?
To read more posts or join in yourself, visit What's On Your Nightstand? at 5 Minutes for Books.