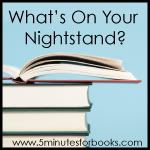 Can you believe we are only a month away from the end of 2012? So much has changed in my life this year, and yet it seems to have gone so fast. I hope that doesn't just mean that I'm getting old!
I am taking a bit of a break from 5 Minutes for Books, so I only have one review published there in the last month: What the Zhang Boys Know: A Novel in Stories, which is an intriguing collection by Clifford Garstang. A bit gritty in the middle, but good overall.
I have also spent some time catching up on the titles I had received from Future Horizons, which could all be very good additions to a special needs toolbox. Here are the links to my reviews:
This is Gabriel Making Sense of School by Hartley Steiner is a fun and informative children's book about sensory processing disorder.
In-Sync Activity Cards by Joye Newman and Carol Kranowitz is a great new set of activity cards with customizable sensory activities.
A QUEST for Social Skills by JoEllen Cumpata and Susan Fell is a ready-to-use curriculum for social skills instruction aimed at the middle school level (although I think it could be used quite successfully with upper elementary and even with high schoolers as well).
I have been doing a lot of reading lately, many of which are from my Fall Into Reading list and/or my TBR list. The titles below are linked to Goodreads, and I have listed how many stars I would give each one in lieu of a review:
I did not finish, and in fact barely even started, The Red Door by Mark Haddon. As much as I loved The Curious Incident, I could not get past even the first chapter of this book. I felt like a pinball in a really bad arcade game, what will all the quick shifts and sentence fragments. I got a bit farther into Some Kind of Fairy Tale by Graham Joyce, but stopped after I found myself skimming through entire chapters in search of something to move the story along a bit faster.
I have a lot of books still on my pile to read, but I'm not really sure which I'm going to read next. My priorities right now are to spend some time in Job preparing for my small group and to keep up with my Divorce Care homework so I can get the most out of the last few sessions as possible.
I'm curious – what was your favorite read this past month?
To read more posts or join in yourself, visit What's On Your Nightstand? at 5 Minutes for Books.