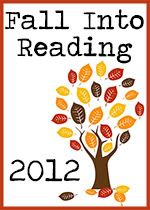 Wow, where did the fall go? Between getting to know a new team at my son's school and having a class of six new trainees at work, the last few weeks have been a whirlwind. As you read this, my mom has arrived for a week-long visit, so the holidays will be quite full for us this year as well!
The end of fall also means it is time to update you on my progress with the Fall Into Reading challenge hosted by Katrina over at Callapidder Days.
Here's my original list, marked up with my progress:
Committed to review by the end of October (and after that, I'm taking a break from it for the rest of the year):
Be Still My Soul by Joanne Bishop – READ AND REVIEWED
The Lost Prince by Selden Edwards – DID NOT READ. I DIDN'T REALIZE IT WAS A SEQUEL UNTIL I STARTED READING IT AND THAT KIND OF PUT ME OFF.
Life With Lily by Mary Ann Kinsinger & Suzanne Woods Fisher – READ AND REVIEWED
Stardust by Neil Gaiman – DID NOT READ. THE BOOK NEVER ARRIVED AND I HAVEN'T GOTTEN AROUND TO CHECKING IT OUT OF THE LIBRARY YET.
What the Zhang Boys Know by Clifford Garstang – READ AND REVIEWED
You Don't Know Me by Susan May Warren = READ AND REVIEWED
Non-Fiction that has been sitting on my bookshelf (most of them for a very long time!):
Blazing My Trail by Rachel B. Cohen-Rottenberg – STILL SITTING ON BOOKSHELF
From Anxiety to Meltdown by Deborah Lipsky – STILL SITTING ON BOOKSHELF
Asperger's on the Job by Rudy Simone – READ AND REVIEWED
Pretending to Be Normal by Liane Holliday Willey – STILL SITTING ON BOOKSHELF
How We Love Our Kids by Milan & Kay Yerkovich – STILL SITTING ON BOOKSHELF
Beautiful One, edited by Shae Cooke – STILL SITTING ON BOOKSHELF
***Yeah, I know this is pathetic. I have a very bad track record with non-fiction. I honestly think I will enjoy all of these books, but when I reach for a book at the end of the day, it almost always ends up being fiction. Oh well!
Fiction from my TBR list (dependent on what I can find at the library):
Downfall by Terri Blackstock – READ
River's Song by Melody Carlson- READ
Flipped by Wendelin Van Draanen – READ
Gone Girl by Gillian Flynn – JUST GOT FROM LIBRARY HOLD AND PLAN TO READ BY END OF YEAR
The Red House by Mark Haddon – DNF
Loving by Karen Kingsbury – READ
Insurgent by Veronica Roth – READ
Falling Together by Marisa de los Santos – READ
The Song Remains the Same by Allison Winn Scotch – READ
The Story of Beautiful Girl by Rachel Simon – STILL NEED TO GET FROM LIBRARY
The Other Family by Joanna Trollope – READ
The Choice by Robert Whitlow – READ
So, 14 read out of 24 – at least it's more than half, right? I did read more books than this over the course of the fall, but I managed to stay pretty focused on the list most of the time.
How about you? What have you been reading this fall? And what do you plan to curl up with over the winter?