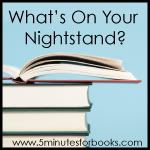 I'm posting this a day early since tomorrow is Christmas Day (and my birthday). I hope all of you who celebrate the birth of the Savior will be blessed with a wonderful holiday.
Just fiction this month, and primarily for escape value, but here's what I've finished since my last nightstand post:
On my nightstand right now, besides a few random reads from the library, is House Rules by Jodi Picoult. I have heard mixed reviews about both the quality of the writing and the content itself, so might have passed on it myself. However, a friend and I are starting a book club centered on titles that have central characters or themes with autism/Aspergers, and she picked this book as our first selection. It should make for an interesting discussion, at least!
So, what are you currently reading?
To read more posts or join in yourself, visit What's On Your Nightstand? at 5 Minutes for Books.