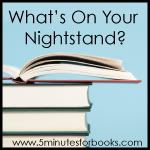 Since my last WOYN post, I have finished 11 more books, bringing my total for the year to 71.
A couple of interesting things have happened this month on the reading front. Although I had been using Shelfari to keep track of my books, I decided to give Goodreads a try and am completely hooked. It's the Facebook for readers, and I love it!!
Another thing that happened was my running across an intriguing young adult book by chance and being captivated enough to give it a read. It was an amazing book, and so I have decided to see what else I am missing and read through the Newbery Medal award winners. I checked out the 2010 and 2011 books today.
WHAT I'VE READ THIS MONTH – (click on the title for my review)
#61. The School of Essential Ingredients by Erica Bauermeister

#62. Chasing Fire by Nora Roberts

#63. Nobody Ever Told Me (or My Mother) That! by Diane Bahr

#64. Safe Haven by Nicholas Sparks

#65. Unnatural Issue by Mercedes Lackey

#66. Attachments by Rainbow Rowell

#67. Friendship Bread by Darien Gee

#68. The Giver by Lois Lowry

#69. The Help by Kathryn Stockett

#70. The Fine Art of Insincerity by Angela Elwell Hunt

#71. Leaving by Karen Kingsbury
WHAT'S ON THE NIGHTSTAND
Fiction
The Weird Sisters by Eleanor Brown
Separate Beds by Elizabeth Buchan
Healer by Carol Wiley Cassela
The Little Women Letters by Gabrielle Donnelly
Gathering Blue by Lois Lowry
Lady in Waiting by Susan Meissner
When You Reach Me by Rebecca Stead (2010 Newbery Winner)
Moon Over Manifest by Clare Vanderpool (2011 Newbery Winner)
Magnolia Wednesdays by Wendy Wax
Non-Fiction
Exploring Feelings: Cognitive Behavioral Therapy to Manage Anxiety by Tony Attwood – just started going through the workbook section with Michael
The New Social Story Book by Carol Gray – reading through with Michael, we're somewhere around chapter 3 and learning a lot
MoveAbout Activity Cards by David & Kathy Jereb – have tried out quite a few and need to go through all of them to see what might be doable at school
The Book on Writing by Paula LaRocque – read and loved it, but haven't written review yet
Stress-Free Believers by Harold Metzel – one chapter in, not totally on the same page with his theology but interested to read more
Sensational Journeys by Hartley Steiner – am about halfway through and enjoying it so far
So, what book are you most glad you read this month?
To read more posts or join in yourself, visit What's On Your Nightstand? at 5 Minutes for Books.
{ 6 comments }